If you love online shopping, you may just enjoy it a little more with this site. Oftentimes, before making a purchase, you do a quick search online to find deals and coupon codes, with this site, you no longer have to take that extra step to try and save some money.
Wasting hours comparing prices on items that aren't worth the hassle can be frustrating. But if you're on a money-saving journey, there's nothing else you can do. Or is there?
That's where you can benefit with  Capital One Shopping. This site can help you save hundreds of dollars or more on future purchases. Capital One Shopping is a price comparison tool that you will definitely want to be a part of.
Your favorite stores don't want to know about this price comparison site, but they can't stop you from installing it!
What is Capital One Shopping?
Capital One Shopping has saved customers over $160 million since 2014. Originally going by the name Wikibuy, this site quickly grew in popularity as more people started to prefer online shopping in lieu of going into stores.
This browser extension and mobile app helps you get the deals when online shopping.
How Does Capital One Shopping Work?
The app has become a one-stop shop for price comparisons, deals, and rewards.
To get started, simply add the service to your mobile device or desktop and watch as Capital One Shopping automatically filters through over 100,000 popular retailers to find you the incredible prices on items you are shopping for.
Browser extensions are available for Google Chrome, Firefox, Safari, and Microsoft and will work in the background as you go about your normal online shopping activities. Before you check out, a pop-up will notify you of better price options or coupon codes available.
Stop overpaying when you shop online
Is Capital One Shopping Legit?
Yes, Capital One Shopping is a 100% legit company, owned and run by one of the leading banking companies.
Designed with the sole intent to save you money on your everyday online purchases, the company has saved its customers over $160 million.
Capital One Shopping App Reviews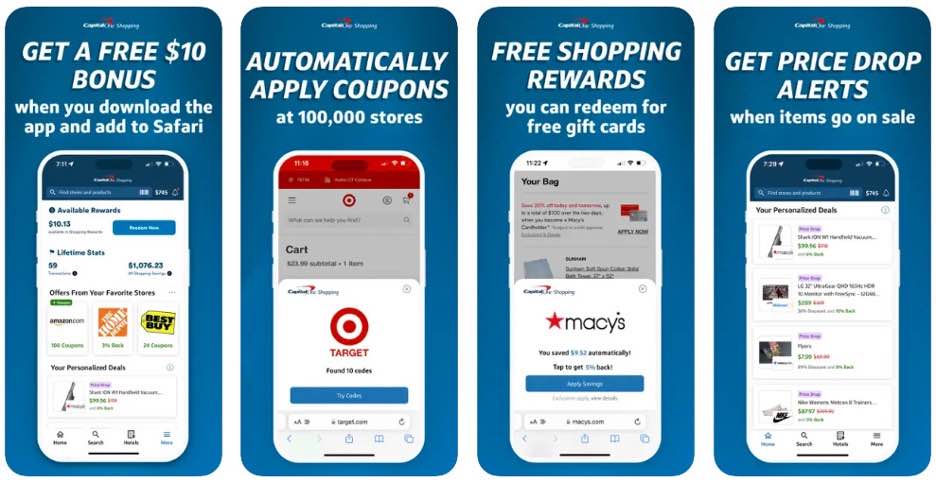 If you find yourself online shopping late at night lying in bed, this leading online shopping site is also available so you can get deals no matter what device you are shopping on.
Currently, Capital One Shopping has a 4.7-star rating on the Google Play Store and a 4.8-star review on the Apple App Store, with over 10,000 5-star user reviews! Users aren't the only ones who love Capital One Shopping. Experts love it, too.
Once installed, all you need to do to find deals is quickly search for the product you are buying and instantly compare deals on the extension.
Download Capital One Shopping onto your device for exclusive deals, savings, and rewards!
How Capital One Shopping Works?

Capital One Shopping compares prices at top stores to give you deals and even rewards, which can be redeemed as gift cards.
Within the first few minutes of Capital One Shopping, searching for good quality noise-canceling headphones. If you've tried to buy headphones, you know that top-rated ones can cost a few hundred dollars.
After days of research, we decided on the Sony WH-1000XM4 Wireless Over-the-Ear Noise Canceling Headphones, but when we saw the nearly $350 price tag, we had second thoughts. That's where Capital One Shopping came in to save the day! The site connected us a store to purchase the headphones for $265, saving us just under 100 dollars.
Additionally, both the mobile app and browser extension are 100% free to use and can help you save money in just a few seconds. You can even add items to your watchlist to be notified when a deal becomes available!
Capital One Shopping Features

Capital One Shopping presents online shoppers with countless money-saving features that are extremely easy and seamless to use.
Keep reading to review these top features:
Universal Product Search
If you know what you are looking for, search for an item directly on the Capital One Shopping search bar. You will be connected with countless deals on leading name-brand products by searching directly on the app.
The mobile app presents you with even more search options by allowing you to scan barcodes when shopping in person at a store. When you scan a barcode on an item, Capital One Shopping will search for other retailers that sell the same product but at a better price.
Featured Deals and Coupons
Capital One Shopping is similar to other reward apps. You can receive rewards and credits from top retailers when shopping on the app. These rewards can be easily found on the app under the Featured Offers tab.
Take advantage of these special deals only available on Capital One Shopping to receive shopping rewards from your daily purchases!
Price Drop Alerts
If you have your heart set on a specific item but still want to wait for a good deal, you can add the product to your watchlist to receive instant notifications when the price drops or there's a coupon code that becomes available.
Capital One Shopping has partnerships with sponsored stores like Target to give you rewards for your spending habits in the form of Shopping Credits. As you continue shopping at these brands, you can build up your credits and eventually redeem them for free gift cards!
Capital One Shopping is one of the only companies that will reward you with free gift cards when you shop at some of your favorite stores.
We may receive commissions when you use the links provided