There are many side hustles that you can pick up to increase your bank account balance. But did you know you could play mobile games like bingo on your phone to put extra spending cash into your pockets?
That's where Bingo Tour comes in! This skill-based bingo app claims to pay legit cash prizes up to $300. You're probably asking yourself: "What's the catch? There is none – it's totally legit!
What is Bingo Tour?
Bingo Tour is free to download on iOS or Samsung. Developed by AviaGames, Bingo Tour was released in 2020 and has already secured the title of #1 in Casino on the App Store with a 4.9-star rating.
This app elevates classic bingo rules by removing the luck factor from the game and instead making it based on strategy. Bingo Tour features exciting powerups for filling spaces quickly and achieving multi-bingos. Implement powerups strategically to boost your score past your competitors.
Make money on the app by practicing your skills and forming a winning strategy to increase your earning potential in cash tournaments. The top three players will come out on top and be awarded with enticing prizes!
Who Can Play Bingo Tour?
Since there's a money-winning aspect to Bingo Tour, the app has a set of requirements for playing for money.
Players must be at least 18 years old to withdraw their cash prizes from the app.
Free gameplay is available in all states and locations; however, if you reside in the following states, you are ineligible to play cash games on Bingo Tour.
Arkansas
Connecticut
Delaware
Louisiana
Montana
South Carolina
South Dakota
Tennessee
Vermont
Despite these restrictions, Bingo Tour can still be played for fun! Yes, it's really that fun.
Is Bingo Tour Legit?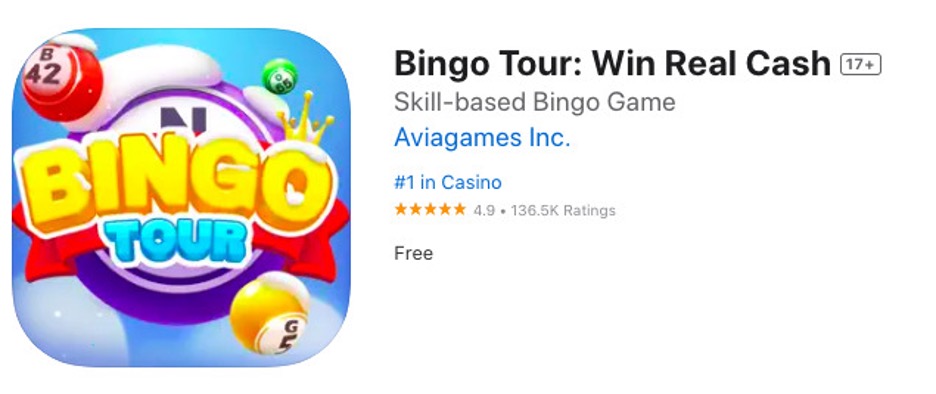 Yes! Bingo Tour is a 100% legit money gaming app.
Come out on top and receive legitimate cash prizes. It's important to note that the app follows a cash tournament design, meaning that players must deposit money into the app to make money.
However, unlike other bingo apps with real-world prizes, Bingo Tour offers free money-making opportunities. These free win opportunities aren't advertised on the app. So, it's essential to log in daily to keep an eye out for these exciting competitions.
In all honesty, these free cash prizes made Bingo Tour that much more appealing! So, even if your bingo skill is a little rusty, you can compete without the risk of losing your entry fees.
Take advantage of Bingo Cash's exclusive free cash competitions.
How to Play Bingo Tour?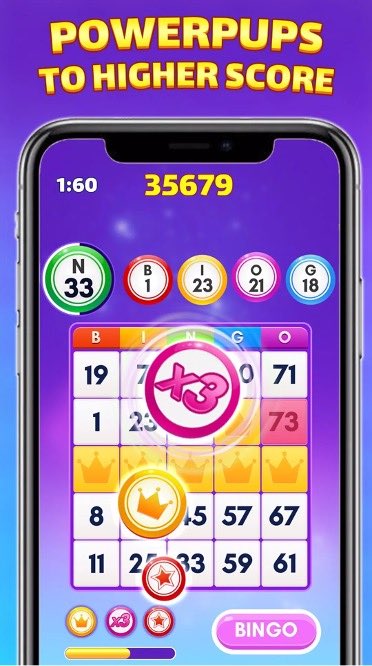 The rules on Bingo Tour are simple.
Bingo Tour follows classic bingo rules. Daub tiles on your card when they match up with the balls called. However, instead of the game finishing when the first person calls out BINGO, the game will keep going.
Collect as many bingos as possible before your two-minute timer runs out. Call bingo whenever you fill a row, column, diagonal line, or four corners. For each bingo you make, you will be awarded points. It's extremely important to act fast to have more opportunities to receive a high score.
Play Bingo Tour to win up to $300
How Much Money Can You Make on Bingo Tour?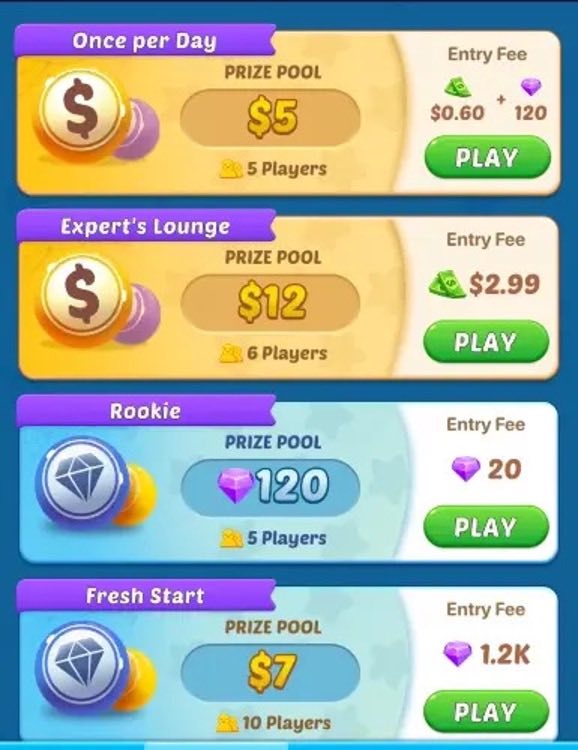 Bingo Tour highlights $40,000 in guaranteed cash prizes daily. The highest-paying prize currently advertised on Bingo Tour is $300. Earning $300 in less than 2 minutes sounds too easy and a scam, but rest assured- the app is legit!
Bingo Tour wasn't designed to pay you a weekly paycheck, but it is a great way to spice up your gaming experience and win extra cash in your spare time.
Remember, the more you improve your gaming strategy and skill, your chances of winning larger cash prizes of up to $300 increase!
How to Get Started
It's as easy as 1, 2, 3 to get started on Bingo Tour.
Download
Download Bingo Tour for free on your mobile device from the App Store or the Galaxy Store. Once the app has been installed, you will be prompted to create a unique username and choose an avatar.
Start Daubing
Now that you've set up your Bingo Tour account, you are ready to start playing this mobile bingo game for fun or cash prizes. Secure your spot in tournaments by depositing and paying the required entry fees. Accumulate the highest score to win big!
Withdraw Your Money
Connect your PayPal or bank account to your Bingo Tour app and securely transfer your in-app earnings into real-world prizes! On average, withdrawal processes take around four business days, which isn't a bad turnaround.
Bingo Tour Frequently Asked Questions
If you have more questions about Bingo Tour, check out the app's FAQs for some answers.
Can you win real money on Bingo Tour?
Yes, you can win real money by playing Bingo Tour. However, these winnings are not guaranteed, so it's important to practice your skills before paying cash entry fees to compete in tournaments for a chance to win the prize pool. If depositing money into a mobile gaming app isn't up your alley, keep an eye out for the occasional free cash tournaments offered on Bingo Tour.
Is Bingo Tour based only on luck?
No, Bingo Tour isn't solely based on luck. Players must use strategy and skill to outscore their competition. To ensure a fair game, players will receive the same bingo card and balls, so winning is based on how quickly you daub your numbers and how you use powerups on the app.
Bingo Tour App Review: Final Thoughts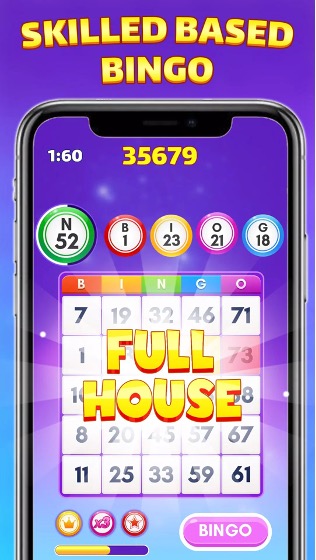 To sum things up, Bingo Tour is a legitimate mobile gaming app that pays real cash prizes. To keep things transparent, you must stay consistent in your practice on Bingo Tour. If you dive right into tournaments, you can easily earn up to $300 during your games.
Install this app to receive 24/7 access to entertaining gameplay and legit cash prizes.